Christmas is coming, which means it's time to start planning trips to Christmas Markets looking for those unique Christmas presents and taking in the odd beer and hot dog, or roasted chestnuts.
This is a list of dates for Christmas 2011. Later dates will be available from Days Out Diary – Christmas events.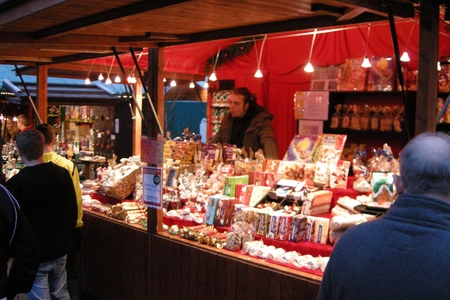 Frankfurt Christmas Market in Birmingham and Christmas Craft Fair
On of my favourite Christmas Markets is the Frankfurt Christmas Market at Birmingham. Having also visited the real Frankfurt Market in Germany it is very similar in all but size (The Christmas Market in Frankfurt, Germany is much larger).
There is also a craft fair next to the Frankfurt market selling locally produced as well as ethnic crafts from around the world.
Daily Thursday 17 November – Friday 23 December 2011
10am till 9pm
Gloucester Quays Victorian Christmas Market
24 November to 27 November 2011
10am to 8pm
Stratford Christmas Market at Stratford-upon-Avon
Another of my favourites is the Stratford Christmas Markets. With a wide variety of stalls including crafts, charities, traditional goods and regular market stalls.
This is a market that continues into the evening with late night opening for the town centre shops.
Thursdays from 24 November to 22 December 2011
10am to 8pm
Forge Mill Museum Victorian Christmas craft fair
A Christmas craft fair inside the Forge Needle Museum in Redditch.
Sunday 4 December 2011
11am to 4pm
A small admission fee applies.
Worcester Christmas Fayre
Thursday 1 December 4pm – 9pm
Friday 2 December 11am – 9pm
Saturday 3 December 10am – 7pm
Sunday 4 December 11am – 5pm
Royal Leamington Spa Yuletide Fayre
Sundays from 27 November to 18 December 2011
Warwick Victorian Evening
Thursday 24 November 2011
5pm to 9pm
Lincoln Christmas Market
Impressive Christmas Market based in and around Lincoln Castle and towards the Town Centre and Cathedral.
York St Nicholas Fayre and York Festive Fayre Market
York has the St Nicholas Fayre which is a traditional Victorian Fayre during November followed by a Festive Fayre during December.
St Nicholas Fayre 24 to 27 November
9.30am to 5.30pm
York's festive fayre market daily 3 to 18 December
9.30am to 7.30pm
Oxford German style Christmas market
Thursday 2 December to Friday 18 December 2011
Thursday to Saturday 10am – 8pm
Sunday to Wednesday 10am to 6pm
Manchester Christmas Markets
Thursday 17 November to Wednesday 21 December 2011
See below link regarding opening times
Bath Christmas Market
24 November to 11 December 2012
Follow the link below for opening times
Hyde Park Winter Wonderland in London
The Winter Wonderland in London's Hyde Park is a large funfair, but it also includes a good sized Christmas market as well. There is free admission to the Winter Wonderland, but the rides require tokens which can be expensive (£2 to £6 per ride).
London Southbank Christmas Market
Formally known as the Cologne Christmas market this market has a mixed European feel, with traditional British and German stalls, with a bit of French and Italian.
18 November to 24 December 2011
Monday to Thursday 11am to 8pm, Fridays & Saturdays 10am to 10pm, Sundays 10am to 8pm
Edinburgh Traditional German Christmas Market
24 November to 24 December
Sun to Wed 10am – 8pm, Thu to Sat 10am – 10pm, Christmas Eve 10am – 8pm
Other UK Christmas Markets
Also check your local area to see what's happening. If there are any other ones that are worth visiting then leave a comment below and let everyone else know as well.
Travelling further
Over the last two years I've had an opportunity to visit the Christmas markets in Frankfurt, Germany and Paris, France. This was without my children on these occasions, we were planning a family trip to the Paris Christmas Market but that didn't happen due to bad weather (details of Christmas Paris Disney holiday). These markets are well worth visiting, although travel can be an issue if there is bad weather interrupting flights and/or Eurostar trains.